Whether you need to provide Portable Toilets for visitors to a country show, a large workforce or a solitary remote worker, G.A. Downing Company can help resolve your lack of Portable Toilet facilities.
Portable Toilet / Restroom Facilities Company
G.A. Downing Company, Inc was started in April of 1971 by George "Buster" Downing, as a 1 man operation and quickly grew within a couple of years. It has always been a family owned business. We currently employ 8 people.
Today, we credit our success to hard work, committed employees & our many loyal customers. We are located in Minot, Maine just outside of Lewiston Maine and Auburn Maine.
VIP & Wheelchair Accessible Unit Facilities Rental Available!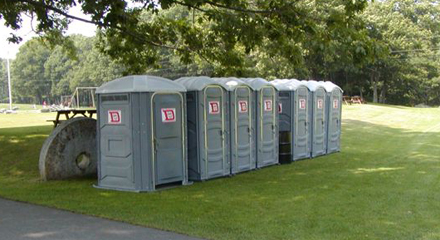 Why choose G.A. Downing for Portable Toilets?
Cleanliness - All Portable Toilets are steam cleaned prior to delivery.
Value - All portable toilets are supplied with toilet tissue, deodorant & hand sanitizer.
Reliability - Portable toilets are delivered in a timely manner.
Experience - We have been supplying Portable Toilets since 1971.